Netrix
Notification Gateway
Central Notification Gateway for room- and alarm calls.
Its distributed architecture ensures the highest degree of flexibility without any limitation. Because of its flexible topology iCall can be implemented in new constructions or renovations, using existing cable infrastructure. All types of call units can be combined into a single system: Wired or wireless, monitored or standard. Any existing call system can be extended with iCall. Furthermore, any type of alarm system, fire alarm installation and communication system can be fully integrated.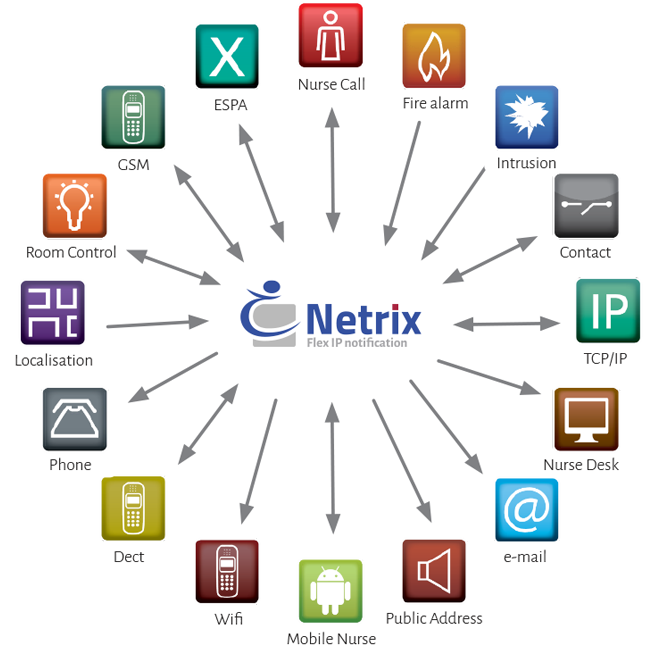 Central component
For the iCall Nurse Call System, Netrix can
be deployed in a redundant setup.
In Netrix, you can program various routines for processing messages depending on the time and day of the week. For each type of call destination, a profile can be determined based on the nature of the destination (e.g. a message to an external mobile phone requires more information than a message to an internal DECT handset).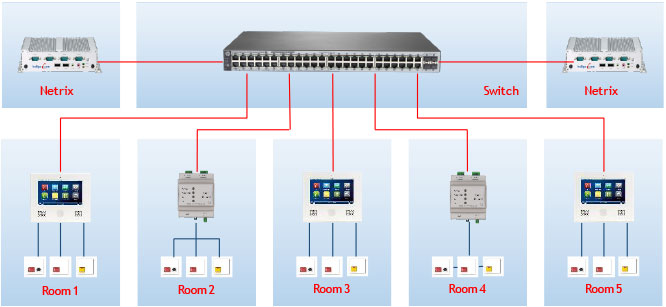 Inputs
Netrix is able to connect with several sites
Netrix is able to connect an incoming IP connection,
such as the iCall IP nurse call system with several sites. The different notification servers are then connected over IP. Existing nurse call systems, fire alarm notification systems and burglar detection systems can be connected to the Netrix message server via the ESPA 4.4.4 or the ESPA-X protocol. Apart from the ESPA connections it is possible to connect any RS232-protocol to the notification server, in order to connect any system.
Outputs
All events from iCall are displayed in real time.
For nurse staff, Netrix can provide an iCall Mobile Nurse Desk on Android operating software in which all events from iCall are displayed in real time. The latest update is maintained until it is succeeded by a new update.
The summary screen offers a continuous list of all events that occur in the iCall nurse call system, including alarms coming from external sources, such as fire detection systems. Extended information screens show detailed information on type of call, room number and an image of an IP-camera in the room if desired. Users can accept specific nurse- or alarm calls, alerting colleagues that the alarm is been taken care of.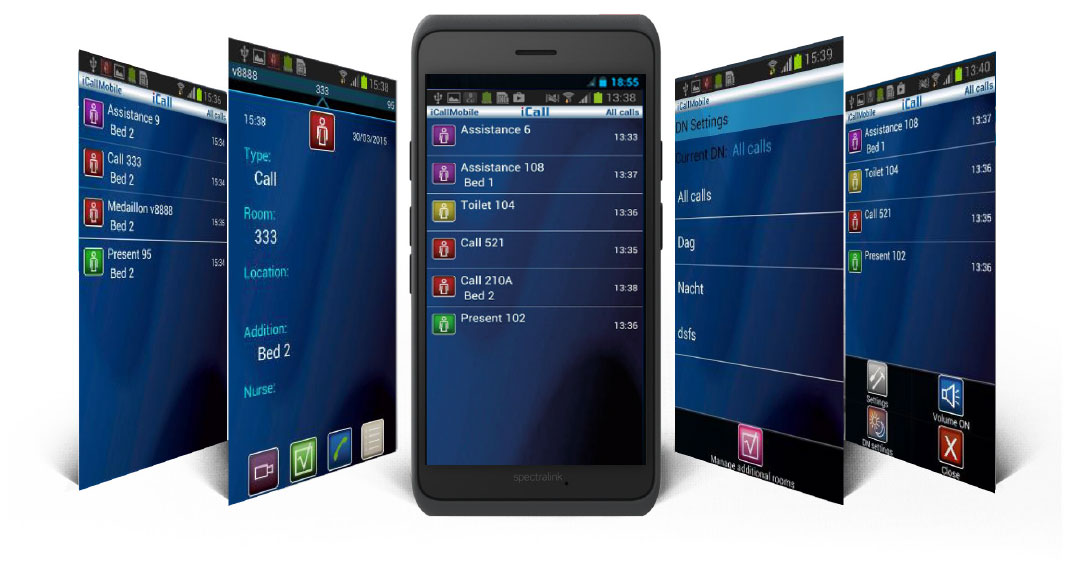 Do you want more information?
Do you want to become our local partner?